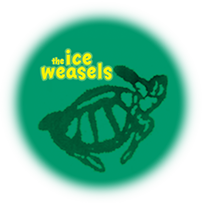 swim with the ice weasels!

The Ice Weasels are a band from San Francisco, California. We make songs for you to sing in the shower.
2013
In July, a third Ice Weasels EP, If the darkness consumes us, we must become the light within it, appeared.
2012
In November, a few more phone notifications were released.
2011
In February, I don't care what happens next was released, so relax.
2008
In February, the Ice Weasels released some fun ringtones.
2007
In October, Inside the Eye of Each Ghost Is Another Pac-Man was released, with five new songs to color your days.
2006
In May, Trance By Numbers was released by labelmates Protect/Destroy.
2004-2006
For the year of 2004 (roughly...), the Ice Weasels released one single each month, to commemorate A Year in the Life of the Ice Weasels.
2000
In April, The Last Party on Planet Earth was recorded on 4-track cassette at Scott Creek beach.
On Christmas, The Last Party on Planet Venus was released from further 4-track cassette recordings in Mountain View CA.